I'm Bill. I'm an artist.
I own and operate Artistik Assistance, Inc.
For the past 30+ years I've been offering Artistic Assistance to contract clients in the areas of;
Illustration, Animation, Corporate Identity/branding, Print graphic design, Web design, Game design and Logo design.
Under the name Artistik Assistance, I've been fortunate enough to have worked for and with some truely amazing clients, on a number of projects.
Past notable clients include:










Over the past few years the bulk of my work has been in the gaming industry, creating themed game concepts, 2D and 3D characters design, animations and special effects for: Digital Poker, Slot Machine and E-pull tab games.
for more about my work or to see samples
ARTISTIKASSISTANCE.com
I'm a self-taught traditional and digital
illustrator with above-average talent.

I'm comfortable working in a number of
styles from photo-real to cartoon.

I've produced licensed products for several globally recognized clients and created
hundreds of original characters in a varity
of styles for numerous projects.
Pencil for layout sketching, roughs, concept approval, and story boarding.
Watercolor, colored pencil and marker for final original art pieces.
Photoshop, CorelDraw, Illustrator for illustrations, photo retouching, and photo manipulation.
Photoshop, Acrobat, CorellDraw, Illustrator, Indesign, for page layout package design and print work.
Lightwave 3D, Premiere, After Effects, Flash/Animate for animation and video production.
Dreamweaver, html editing, CSS development for web design.
1990-Present Creating visual arts products including: Illustration, Animation, Corporate Identity / Branding, Print graphics, Web design, 3D Modeling, Video Production and post-production with After Effect.
1996 - Designed Licensed sports watches for all Pro sports (NFL, MLB, NHL, NBA, Nascar) and college teams, as well as Print ads, packaging and point of purchase material. I also designed the 30th anniversary limited edition STAR TREK watch and custom packaging for Paramount Pictures.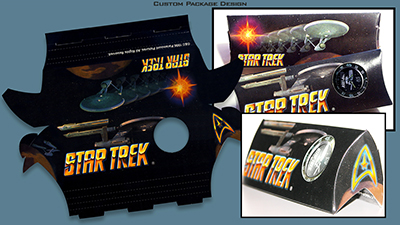 1998 - Illustrate, design graphics and animations for Mattel Media's "Talk With Me Barbie" Web site and Illustrate 2D character animation for Disney's "My interactive Winni the Pooh"
2001 - Illustrate, design graphics & animation for Disney's "Girlfriends". Program shockwave & Flash demo games "Girlfriends", "Monsters Inc." & "Tinker Bell"
2006 - Produce background art, animations, and special effect art, for Gameboy Advanced and Nintendo DS games created for Disney, Pixar and others.